THE LOGO, TORCH & FRIENDSHIP SCROLL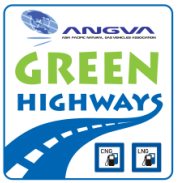 The logo was slightly amended from the previous ANGVA Green Highways' logo with the addition of the international symbol for NGV refueling stations for dispensing CNG (Compressed Natural Gas) and LNG (Liquefied Natural Gas).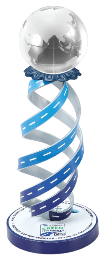 The Torch. The AGH2011's torch has three spirals moving from the base towards the globe on the top. The three spirals represent the three routes chosen for the AGH2011 i.e. Southern Route, Western Route and Eastern Route. The colour blue represents the universal colour of natural gas, which is clean and environmentally friendly – "Green". The three spirals were inspired from the DNA double helix, which symbolize that all teams participating in AGH2011share the same DNA to promote the usage of natural gas as a clean or "Green" fuel for the transport sector.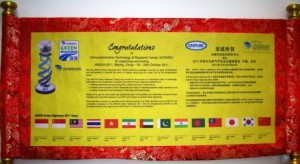 The message scroll captures in writing the friendships, cooperation, and goodwill among all team members along the three routes as they bring the scrolls to Beijing, China to congratulate CATARC on the successful organizing and hosting of ANGVA 2011.
The message on the scroll is written in two languages i.e. English and Mandarin. The following is the message:
Congratulations to China Automotive Technology & Research Center (CATARC) for organizing and hosting ANGVA 2011, Beijing, China, 18 – 20th October 2011.
We, the ANGVA Green Highways 2011 Teams bring this message to convey our spirit of friendships and enthusiasms to achieve the vision of making natural gas as a clean fuel for the transportation sector.
The ANGVA Green Highways Teams has embark on the journey of a thousand miles of friendships, enthusiasms and cooperation to achieve the ANGVA Green Highways objectives of;
Creating awareness and promoting NGV, ANGVA and NGV Infrastructure,
Promoting harmonization of NGV Standards and Code of Practices especially safety standards, and
Creating cooperation and exchange of information and experiences.
Along the routes we have foster and experience spirit of friendships and solidarities among the team members and local NGV players in our effort and mission to achieve these objectives.
We would like to convey our gratitude for the strong supports of all Team Members and CATARC for the successful conclusion of the ANGVA Green Highways 2011. And we congratulate CATARC on the successful hosting and organizing of ANGVA 2011 Conference & Exhibition